1. What does moderation mean?
Moderation is a required step for checking emails. It helps to monitor the quality of mailings and users' compliance with the rules of the Antispam service policy.
2. What emails go on moderation?
The first three or four letters that are sent by new users always go on moderation regardless of their subject, structure and content. Thus, we make sure that the new client is not a spammer in order to eliminate the risk of «clogging» of the SendExpert servers and to avoid negative consequences for other clients of the service.
If the sender has a good mailimg history, then his further sending is carried out without obligatory verification.
But moderation can also be used for emails from verified users if there were noticed some of questionable elements, such as:
- too many words written in capital letters;
- redirects;
- broken links;
- spam words.
3. How much time does the moderation take?
During working hours from 9 to 18:00 moderation is carried out within 10 minutes. After 6 p.m. and on weekends moderation can take from half an hour to 8 hours.
4. How to avoid delay in sending mailing because of the moderation?
In order to make sure that your email does not «hang» in the moderator»s list for the evening or night and will exactly pass the moderation process, we recommend using the planned sending feature.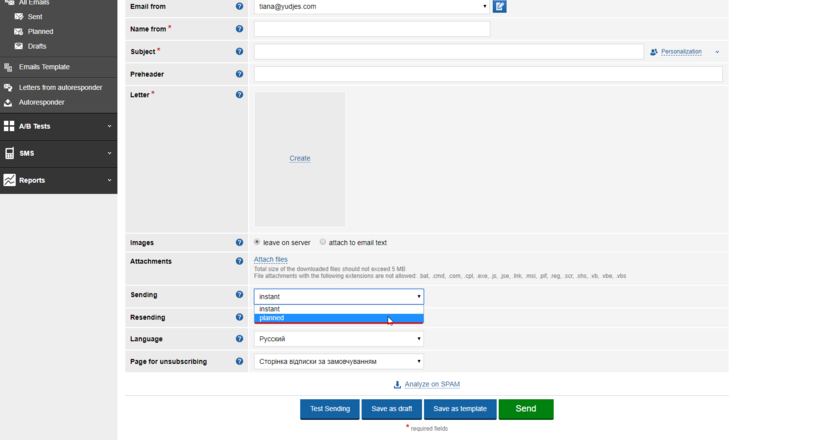 Create mailings in advance during business hours and plan to send them for the required time. In this case, if your letter is good enough to be sent, you will quickly receive a confirmation, and even if the letter is not suitable for sending, you will have enough time to correct all the unwanted elements, analysing the reasons for the refusal in the tickets.
This stage allows you to protect your email from getting into spam, and our servers from negative reputation.
5. What is a delayed sending and an auto-moderation?
The first mailing after registration always passes the additional test by «delayed sending». What does this mean? After the email passes moderation, the letters will leave only to 10% of all subscribers. This is done in order to verify the accuracy of the loaded database.
If the number of spam complaints about the first part does not exceed the allowable rate, then the remaining 90% of emails will be sent in two hours after this confirmation and the first 10% part sending. If a critical percentage of recipients of the first part of letters unsubscribes or report spam, the newsletter will be automatically blocked.