«Click to Call» is written as heard and understood in the same way. «Click-to-call» literally means that by clicking on a certain element, the user can immediately contact the company not only through a phone call, but also using other form of communication such as messengers that support voice messages.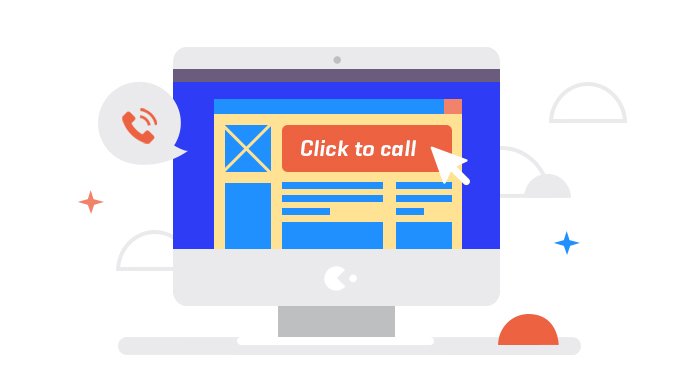 As a rule, the Click to Call option is implemented in mobile versions of sites to make it possible for visitors to make calls without directly dialing a phone number. So, you do not need to write down on papers, copy to the clipboard or memorize unnecessary numbers. All you have to do is just click on the advising number on the screen. Most often, this feedback function is used for landing pages and main pages of company resources, but it can also often be found in other communication channels like a blog and, especially, a bulk email.
This tool is very useful for companies, and also convenient for customers. It allows brands to increase the coefficient of interactions and build up strong connection with customers, and consumers — to save time.
To implement this, you can use :

This format will be supported on most mobile devices in different browsers.
One of the simplest web forms of implementing such a tool is the same slide bars or widgets «Request a call», which are often found on modern resources. You are prompted to leave your phone number and after a while (usually 30-60 seconds), the company manager should call the client back and help to find out all the necessary information.
How to implement the «click-to-call» technology in the newsletter?
In order for such a technology to really benefit and serve well, it is necessary to adhere to simple and, at first, obvious principles:
- concise, precise phrases are always better stimulate to action than beautiful, but long sentences; it»s best to do one or two words such as «call», «dial», «contact», «click to talk» etc.
- adding the moment of time — «now» «after 30 seconds» «instantly» — you push the readers to immediate action and directly bring them to the interaction;
- Buttons work more effectively than just text — people respond better to visual content, so graphic elements and images will bring more calls, and of course, we must not forget about the invincible desire to press any button that appears before our eyes.
In most mailing list services, you can make a number or a button «active» using block editors. Doing this is just as easy as inserting a link into text or image.
How to do this?
When you have prepared the letter in the block editor, click on the phone number that you want to «activate». A small text editing menu appears. In the same menu, select the «chain» icon..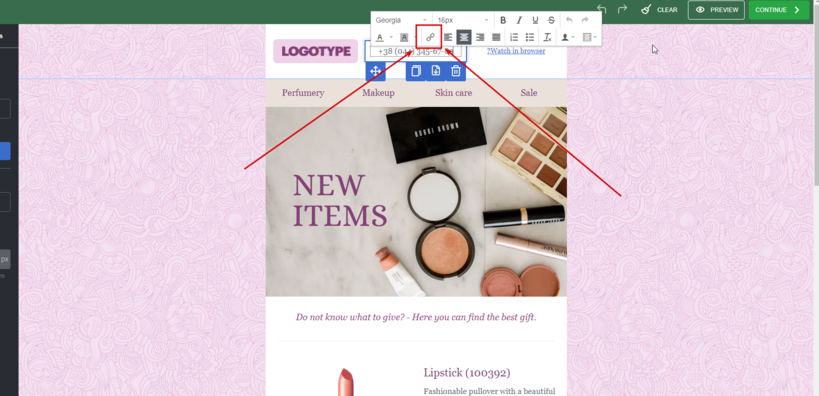 A window for working with links will open. In the line «Link Address» copy the phone number and paste, but at the beginning we add tel: — and done! This is all!
Now when clicking on the phone number, the subscriber will immediately proceed to the call of the company immediately from the letter.
If you want to «activate» an image or button, click on the item you need, select the «Link» item in the menu on the right and select «Phone» in the list and then enter the number you need