Email newsletter is an effective tool of any email marketing campaign for attracting and retaining audiences, and most companies are successfully using it. Every day email box is attacked with various advertising, informational and other types of messages. Customers haven»t such an amount of time to read each and all of them carefully, especially taking into account the pace of modern life. Therefore, only those that are the most noticeable and relevant will be opened and read.
First and foremost, an effective email should catch clients» eyes and make them interested in reading it. In order to achieve such a result, you must first pay attention to the formation of the mailing header. After all, the first thing a reader sees without even opening a message is subject of the email. It should be short and interesting to your target audience and have clear formulation. The topic of a letter will be more likely to be noticed if it:
• explores the needs and interests of subscribers; display relevant information;
• interests the subscriber with real and relevant digital data;
• uses name personalization — addressing the name to the reader;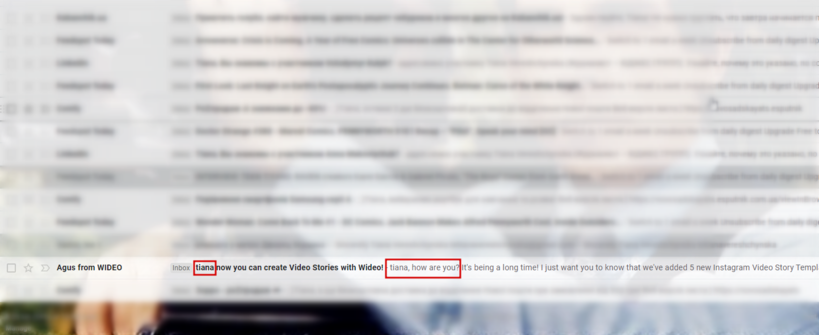 • does not use words that can «send» your mailing to spam (for example, discount, promotion, most, best);
• uses one of two methods of interest of a potential client:
arouse interest (for example, tell the beginning of an interesting story or use a compound similar to «Do you know what…?»). A message with a such subject should justify subscribers» expectations, otherwise they may simply cancel the subscription;


appeal for the desire to benefit (offer a gift or bonus).
The subscriber also draws attention to the sender's name. It is better if it is the name of a real person that gives rise to a sense of communication with a specific person rather than an abstract company. But it is also not a unique method. Sometimes, especially when we talking about commercials or newsletters emails, it is better to use brand's name.
A preheader — text that can be seen by subscriber without opening the mail near the subject line — also affects the Open Rate metric. The preheader complements topic and becomes another important factor that compels to read the text entirety. For preheader it is best to because you risks to deprive motivation and desire to read further. If you want to be more original, you can turn to humor, or use unusual characters and symbols.

In order to attract more attention to your newsletter, you need to follow the less obvious, at first glance, but no less important factors:
• frequency of departure — it is necessary to adhere to the golden mean, in order not to bore the subscriber, but also not to forget about himself;
• time — depends on the specifics of your audience. You can take a survey to determine when it is more convenient for subscribers to receive an email;
• segmentation — by distributing readers' interests or reactions to emails you receive, you can pick up information or products relevant to each group.
• A / B testing — testing different mailing options helps you choose the most successful one, as well as avoiding possible mistakes.
Therefore, to make your email noticeable, you take time and work on the first parts of the letter. The name of the sender, subject and preheader are intended to interest the potential customers and make them want to open the letter and read the text in full. To get into the reader's view, you must find out the appropriate time and frequency of sending. Also you must not disregard such email marketing methods as segmentation and testing.