One of SendExpert's users is Armada, which is a law company providing services to the clients allover Ukraine. They were looking for a service that could ensure the correct and timely letters mailing to their subscribers. Their base accounted 100,000 addresses. These are people from different parts of Ukraine who ever contacted the company in relation to any issue.
Customers immediately realized that such a number of subscribers could not be «grabbed and packed» into a single block. Even a small database needs filtration, because the addressee tries to set up a contact with potential clients, but not a faceless crowd.
Therefore, before dispatching notifications, marketers from «Armada» firstly preformed a segmentation of the contacts database.
A database segmentation is a separation of your subscribers into relatively smaller groups, aggregated according by a certain criteria.
We never have any objections when the customers decide on their own to segment created database. As every company knows own subscribers better than others do, and hence it knows better what kind of information to be expected. This helps to make a correct proposal for each segment and to get the desired conversion.
Knowing the specifics of the company and clients, «Armada» team has chosen two main criteria «to sort» addresses.
1. The first criteria — geography
Experts of the company have divided their subscribers into the regions of residence.
With such an approach, they had got 22 segments, which was quite a lot.
One should be very careful when collecting and analyzing the indicators of the mailings, which may even at a very simple visual level could be poorly «eye capturing» with such a number of segments in one project.
This is exactly the problem to be solved by multi-project possibility in the SendExpert system. It makes possible to create multiple projects for one account without accounts duplication for each individual.
This made a possibility for our client to create 22 projects and import formed segments into the projects.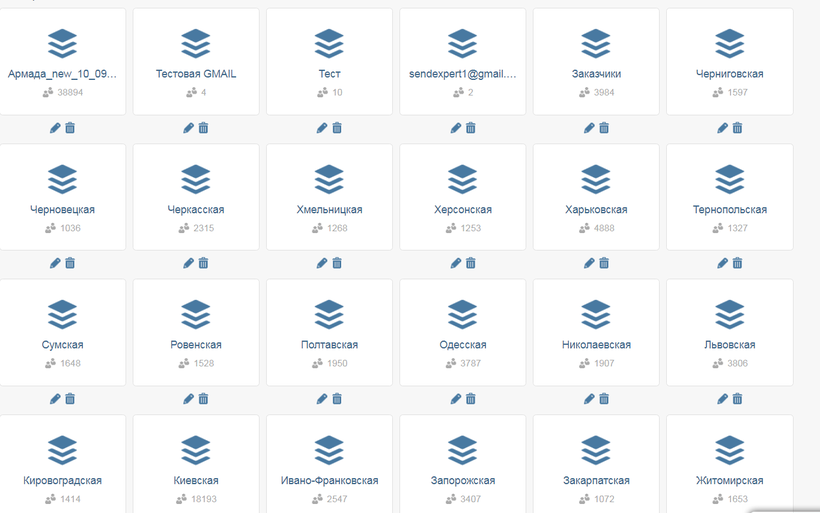 All categories of the subscribers and their basic data are clearly visible in one window and by clicking on a particular project you could get a clear statistics for this specific segment.
In this way, the client gets more convenient and quick option to track mailing lists.
Segmentation by geographic regions enabled to develop more efficient email strategy for each segment. One of the solutions adopted by «Armadi» experts is to prepare different versions of the letter — Ukrainian and Russian — for the regions where the corresponding language is more widely used.
2. Second criteria — history of cooperation
The next phase of the segmentation was to split subscribers into those who have been familiar with a company for a long time and those who just recently subscribed to the news mailing.
The content of the letters for each segment should be individual, since different subscription categories have different information needs.
«Experienced» subscribers want to know the latest news, system updates and get the appropriate preferences for their trust and loyalty to the company.
«Beginners» need basic data: what is this company, what are the features, a list of all services and a system of bonuses for customers etc.
Using capacities of the multi-project work in SendExpert, our client created for each segment own settings and templates of the letters.
For example, segment»s statistics for already «trusted» senders by a subscriber. The letter to them resulted in 9.18% of the mail openings, which is a good indicator for the first mailing message.

Results of the news mailing by regions enabled to find out how well segmentation was done in relation to the Russian-speaking population and how effective this approach was in general.
The letters in Russian were sent to 4303 addresses and in 6.27% they were open.

Among the 3189 addressees whom the mailing was sent in Ukrainian, there were 4.23% open letters. Such indicators make a reason to the company to revise mailing strategy for this segment.

Thus, proper segmentation and the multi-project option in SendExpert provided to our client an opportunity to get accurate statistics on all the actions of their experts efficiency. It made possible to find out how their approach to the letters writing was right and to do it even after the first mailing, based on the feedback results, adjust their mailing strategy for each region.